Church Logo Design
The client wanted a clean contemporary design with a touch of traditional religious references. During our branding discussion, it was clear the logo needed to represent the church's passions and beliefs. The logo also needed to have rich meaning and symbolism.
The Harvest Light Baptist Church logo depicts a cross within threshed wheat. It symbolizes that Jesus, the cross, is the center of the Harvest. From the center, He radiates the bounty that is offered to all. The red drop, pointing toward the heavens, at the top of the logo symbolizes the blood of Jesus. "...No man cometh unto the Father, but by me."Just as rain provides life, the blood of Jesus provides eternal life.
Brand Color Symbolism
The colors selected for Harvest Light Baptist Church's logo were purposefully chosen through research of color symbolism and meaning throughout history.
Purple - Royalty, The Risen King
Golden Yellow - Glory of God, Bounty, Light, Radiance, Faith, Joy
Crimson Red - Blood of the Lamb, Forgiveness, Hope, Love of God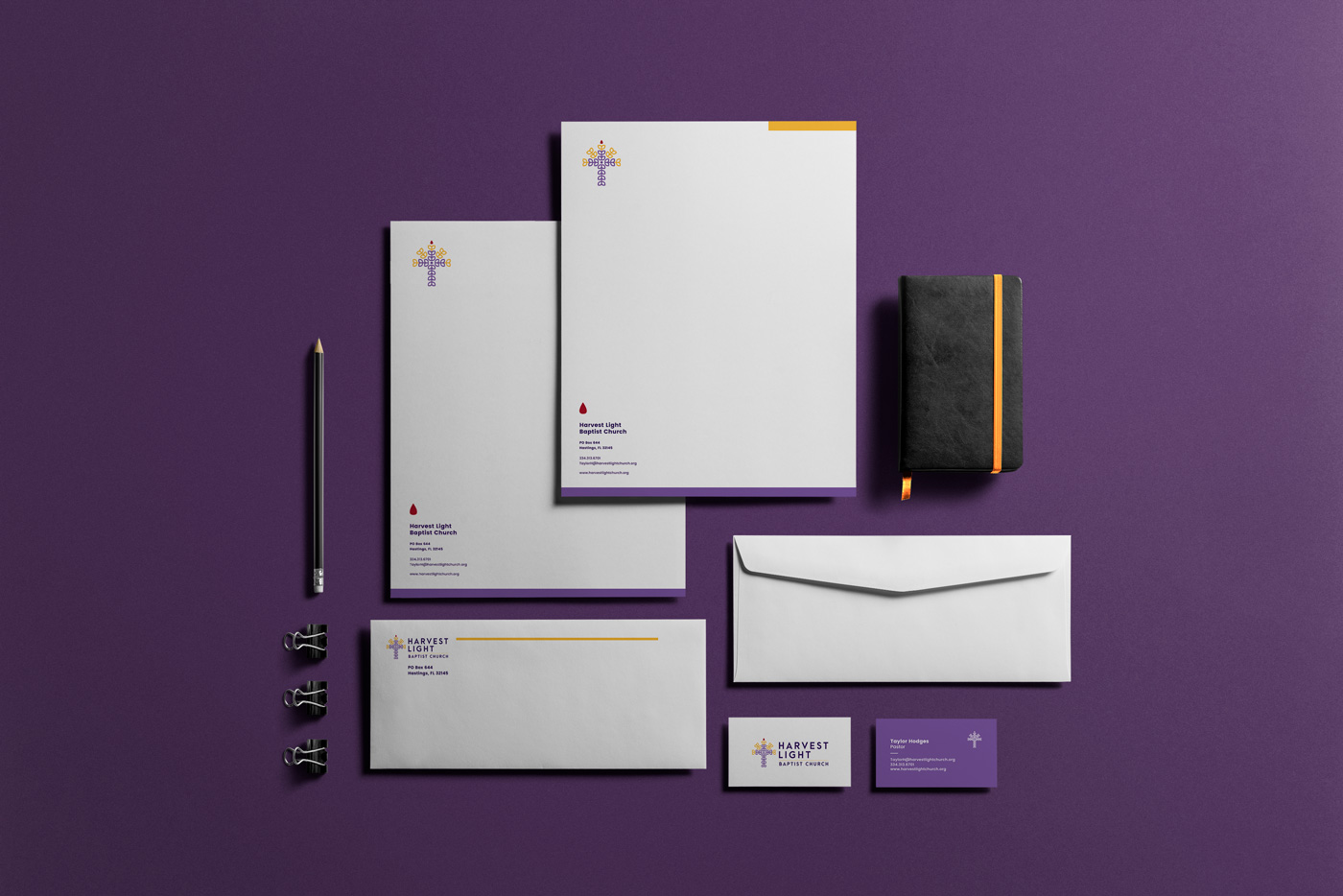 Church Stationery Suite Design
A beautiful stationery suite was also created. The design is clean and contemporary with simple pops of color pulled from the logo. You can see the overall brand and design is cohesive throughout.
Church Website Design
Site Features | Video Header, Twitter Feed, Instagram Feed, Sermon Podcast Integration with Setup, Blog, Event Calendar, Church Store (eCommerce), Contact Form, Donation integration
Church Store Products
A church store was built directly into the website. This was a feature that gave donators the option to purchase branded products that helped support the growth of the church.