Game Design Document Template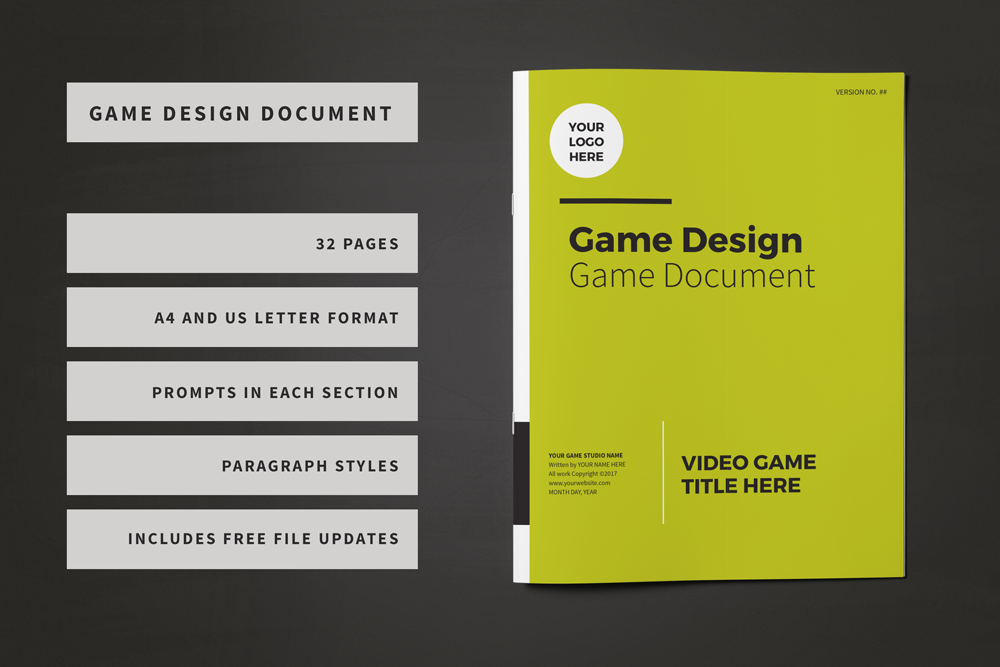 Game Design Document Template
This Professional Game Design Document Template is a 32-page InDesign brochure template available in both A4 and US letter sizes. Each section has prompts to help you write your Game Design Document.
Simply replace the logo and brand colors with your own.
The preview images are shown in green and black, however changing the colors is simple.
PLEASE NOTE: YOU MUST HAVE ADOBE INDESIGN TO EDIT THIS TEMPLATE
THIS PRODUCT INCLUDES
32 page InDesign Document
2 sizes: A4 & US letter
Compatible with Adobe Indesign CS4, CS5, CS5.5 & CS6 & CC
Files Include: INDD, IDML, PDF files
Paragraph Styles
Editable colors
Aligned to Grid
Master Pages
Text and Shapes on separate layers
Uses free fonts
Prompts for what to write in each and every section to help you write your Game Design Document
Sections Covered in the Document

Version History
Game Overview
Inspiration
The Game World
Game Characters
User Interface
Attribute or Ability System
Level Up System
Musical Scores & Sound Effects
Game Blueprint

FREE UPDATED FILES after initial purchase - I see this as a living document. I will update and add sections to it if I feel they are necessary.
Standard License (What is a Standard License?)
FONTS (Free Font)
If you don't have InDesign you can download a FREE trial.
LICENSES
Items purchased under the Standard License may be used to create End Products for Sale where lifetime sales of that Product do not exceed 500 units!
Should you wish to sell more than 500 units, the purchase of an Extended License is REQUIRED which gives you the rights to unlimited sales. Please email me directly for the purchase of an extended License.
The Story Behind the Game Design Document Template
I got into game design and development about 2 years ago. I taught myself the tools of the trade, read articles, joined Facebook groups, took online classes, and most recently started developing my very first game. As I started my journey, I simply couldn't find a Game Design Document that would fit my needs. I would find free GDDs here and there across the web, but they weren't detailed enough or laid out the way I would like. So, not long ago I decided I was going to make the perfect Game Design Document! This product's development started with countless hours of research spent online comparing and contrasting documents drawn up by other individuals as well as my own processes I use for my own game development. I not only wanted to create an extremely detailed document, but I wanted to put my BFA in graphic design to use and give it that professionally designed polish. This isn't your typical template. In addition to the professionally designed page spreads, I've written up prompts for each and every section throughout the document to help you along the way. I've worked EXTREMELY hard on this template. I hope it helps with your next video game project. Thank you so much for your support! Every purchase helps me develop more amazing products like this and helps me with my own game's development.
Get the High Concept Game Document too!